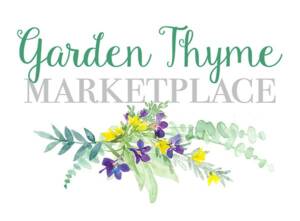 Gardening and Nature Inspired Shopping
Shop more than eighty creatives and gardening tradespeople at the Garden Thyme Marketplace in conjunction with the International Master Gardener Conference Monday, June 19, Noon-7:00; Tuesday, June 20 and Wednesday, June 21, 10:00-7:00. It's all happening in air-conditioned comfort at the Overland Park Convention Center. Parking and admission are free.
Marvel at countless interpretations of the world around us by creators of one-of-a-kind jewelry, pottery and ceramics, fiber art, paintings and watercolors, and glass and metal art. Breath in delicately scented bath soaps and lotions. Delight in specialty foods. And of course, you'll want to take home rare seeds and stunning botanicals. Plants for the garden including natives will be available.
A garden and nature themed event like the Garden Thyme Marketplace is exactly what the gardeners are looking for. We know you'll be pleased with the vendors selected to be part of the event. Learn more about our vendors below.
Want to become a vendor? We would love to have you join us. More information can be found here:
Apple users click on the link to print the Vendor Application: https://imgc2023.com/wp-content/uploads/2022/09/VENDOR-Pkg-Revised-8-5-22-V1.pdf
Monday Noon-7:00 Open to the Public

Tuesday 10:00-7:00 Open to the Public

Wednesday 10:00-7:00 Open to the Public

Pottery
Dorrie Sullivan Pottery–Porcelain clay that withstands the demands of daily use. She blends a vision of the natural world with a touch of whimsy in very colorful highly detailed simple forms. http://www.dlhpottery.com/
The Papercrete Potter–Papercrete Pottery and tables, succulent and cactus gardens. http://thepapercretepotter.blogspot.com/
Cindy Percival Ceramics–Handmade original pottery with an emphasis in nature, planter baskets, seed pods, garden totems, bird chimes and more.
Susan Speck–Handbuilt Funk-tional porcelain tableware and garden vessels. Embellished with various textures and press molded forms, Susan's work is totally functional for the table or garden, or just admired for its funky beauty. https://www.susanspeck.com/
Susan Nelson Pottery–Hand built stoneware pottery vessels specifically designed by Susan Nelson (artist/gardener) to inspire unique arrangement and display of both living and dried plant materials. Create beauty for your home from your own garden! Vases are reusable, a new arrangement each time, celebrating the seasons. http://susannelsonpottery.com/
Glass Art
JMR Enterprises LLC–stained glass art.

Blue Hills Art Glass–Fused glass garden art. Add interest and beauty to your garden with fused glass flowers and leaves, mounted on twisted copper rods. Other glass items include tiles, lanterns, and garden inspired dishes.
gARTen glass–Re-imagining vintage and unique tableware into artistic garden decor for year-round beauty.
Mixed media, watercolor, painted art

Gayle Faulkner's Textural Acrylics–Colorful and textural representation painted primarily with a palette knife, making the texture come off the canvas and inviting the viewer in. www.GayleFaulknerfineart.com.
Megan Kasper Art–Be inspired by the flow and color in her paintings, reprints and cards of Butterflies. Megan is a self-taught freelance artist and designer. https://www.megankasper.com
Sherri Thomas Wild Willow Art–Nature inspired art that reflects the life, joy, and peace found in nature. https://wildwillowart.com/
Trails End Art & Nostalgia–Hand-painted reproductions of old advertisements or original advertisements on barn wood. Themes of ads/art include but not limited to wildlife, florals, gardening, pets, Americana, and cultural interests. https://trailsendartnostalgia.net/
Mixed Mediums–Artist Marsha Poholsky creates nature inspired photography and mixed media art.
Lori George Art–Art inspired by color, texture and nature. Original art, fine art giclee prints, note cards, ornaments and more. https://www.lorigeorgeart.com/
Ivey Zoellers Art–Many of my paintings feature the autonomy of birds conveyed through the application of bright and expressive colors with bold marks. My work also utilizes symbolism associated with my chosen subjects. https://iveyzoellers.com/about/

Natosha Keefer—https://natoshasart.com/natosha-keefer/
Anastacia Drake–Acrylic floral paintings. https://www.anastaciadrake.com/
Brave Art: Joe Don Brave–Original & reproductions of my art, including cutting boards, mousepads, prints, note cards and magnets. https://joedonbraveart.com/
Jewelry
Rissa's Artistic Design–For those who seek something special and unique. Hand crafted one-of-a-kind original jewelry masterpieces in designs that range from Earthy to Edgy to Elegant, utilizing artistic wire and gemstones. These custom-made pieces can transform any outfit into a creative expression that is made just for you. http://www.Rissasartisticdesign.com.
Amaranthine Artist–Botanical inspired jewelry and visual artwork. https://www.allisonbowman.com/
The Diana Collection Jewelry–Semi-precious stones, shells and pearls created into one-of-a-kind casual and sportswear jewelry.
Julie Reed Design–Original handmade accessories and laser cut jewelry inspired by the natural world. https://juliereed.com/
Flora Bee KC–Floral resin jewelry, handmade to be one of a kind just like nature. https://www.instagram.com/florabeekc/

Michelle Avery Jewelry

Fiber Art
J & M Unique Stitchery–Bring our gardens inside with garden-inspired decor and appliqued wool pillows made with the beautiful colors and designs inspired by gardens. Specially designed pillows for the outdoors.
Jordan Creek Textiles–Makers of handcrafted market bags and handbags from up-cycled fibers.
Fiber Fusion–Fiber Fusion artists work with a variety of fibers such as wool, silk, linen and paper. The fibers are felted together creating original one of a kind items. Products are 3D felted vessels and lamps, eco dyed works, hand crafted books and cards featuring handmade papers and Art to Wear clothing: vests, shawls, scarves, hats and gloves.
Susanna Zeller LLC–Hand-sewn designer fabric handbags and zipper pouches. https://www.susannazeller.com/
Photography

Lisarae Photo Design–Original hand-signed Greeting Cards. https://www.lisaraephotodesign.com/
Stone Frog Studio–Photographic Art printed on glass, slate, aluminum, wood and textiles along with garden themed home, kitchen and garden decor. https://www.stonefrogstudio.com/

Cottage Blooms–Elegant Notecards and Framed Photographed Images of Flowers, Butterflies, and Nature. Each image is a detailed photograph cut out and mounted up off the paper/mat creating a 3-D effect. Also have cards and frames of local Kansas State University and University of Kansas licensed trademarked mascots. https://cottagebloomscards.com/
Metal Art

Dos Gatos Designs–Dos Gatos Designs creates whimsical, welded art for garden and home utilizing found and repurposed steel. Products include word stakes, planters, garden animals, garden stakes, and sculptures. https://dosgatosdesigns.com/schedule
Wildfire Metal–Offers unique yard art and gift items. Each piece is hand crafted from recycled or reclaimed metal and car parts. www.wildfiremetal.com
Afterall Stunning Home Finds-At Afterall, we're hunters! We specialize in home and garden with an emphasis on antique/vintage to create stunning home finds. Looking forward to bringing unique, one-of-a-kind items to the IMGC show…maybe its the chippy barnwood trellis or antique cast iron rabbit….just know we're out there looking for it every day! We will also have our lovely garden iron, wood lanterns/cloches and amazing urns. https://www.facebook.com/AfterallKC
Missouri School of Blacksmithing–Forged blacksmithing items: wall hooks, fire tools, utensils, etc. Advertising for classes. https://www.mo-schools.com/
Handcrafted soaps and lotions
Sweet Streams Lavender– Local family grown, organically farmed, chemical free! Lavender soaps, essential oils, candles and products. http://www.sweetstreamslavender.com

Wild Ivy Herb Farm–Lori Trojan, Master Gardener, Master Herbalist and steward of Wild Ivy Herb Farm, offers products made from herbs naturally grown and harvested from the Farm including herb-infused vinegars, oils, salves, lip balms, soaps,, and her book "Guide to Growing Herbs." https://www.wildivyherbfarm.com/
The Healing Goat Soap & Gift Company–Goat milk & butter soaps, shampoo bars, lotion, bars and body butters, hair oils, beard balms and beard oils. https://www.healinggoatsoapllc.com/
Wood Art
Wonder Wooden Floral–Wood flowers made from Birch and Bradford pear trees, arrangements, and wreaths.
Orange Box Woodworks–Handmade, one of a kind, wood working items..such as cutting, charcuterie, and serving boards, as well as exterior items. https://orangeboxwoodworks.com/
Plants, florals & seeds
Birds Botanicals– Birds Botanicals will be offering a wide variety of cool and unusual plants! A colorful booth full of Orchids, Tropical house plants, Succulents, Aroids, and exotic collectibles! https://birdsbotanicals.com/
Bee Wild Seeds Company LLC
Baker Creek Heirloom Seed Company–Colorful displays of edible & ornamental plants/flowers in addition to seeds, catalogs, and other gardening supplies to give away. https://www.rareseeds.com/about
Vinland Valley Nursery–Vinland Valley Nursery has been growing pesticide-free plants for 25 years. A full-service garden shop, greenhouse and nursery, we offer a wide variety of annuals, perennials, trees and shrubs, including a huge selection of native plants. http://vinlandvalleynursery.com/ Phone: (785) 594-2966
Sow Wild Natives–We provide high-quality, regional native plants to add function and beauty to yards and green spaces throughout the Kansas City region to support our vision of restoring balance to our ecosystem. http://www.sowwildnatives.com/ Phone: (816) 974-6201
Seeds From Italy–Specialty Heirloom Italian vegetable and flower seeds. https://www.growitalian.com/

Simple Morea–Hand wrapped kokedema with live plants. All kinds of trending tropical plants. (indoor) https://www.facebook.com/SimpleMorea/ https://www.etsy.com/shop/SimpleMorea
Succulent Collective Planting Bar–We are a DIY planting bar–pick your pot, pick your plants, plant and decorate.
For the Birds

Wild Birds Unlimited Shawnee & Olathe– Your one-stop shopping for all supplies for feeding and enjoying backyard birding. https://olathe.wbu.com/ Phone: (913) 839-3151
KSCanuck.com–Best Hummingbird Feeder Ever, Oriole and more feeder, window hanger, pole mount, hummingbird swing. http://www.kscanuck.com/
Nature & garden related products
Garden Charms–Hand crafted terra-cotta plant markers and labels and enchanting frog and toad houses.
Happy Leaf LED–Commercial quality grow lights. https://happyleafled.com/learn-more/ Phone: (815) 414-2209
Original Bucket Stool– This handy, sturdy little stool turns your average 3.5 and 5 gallon bucket into a COMFORTABLE place to sit AND you still have access to the bucket. https://bucketstool.com/ Phone: (708) 462-2737
Elm Dirt–Elm dirt is a woman-owned, KC local, organic nutrient brand available directly to consumers as well as wholesale and bulk quantities for any gardening needs. Our products are safe to use on any plant as they restore the ecosystems of the soil. https://www.elmdirt.com/ Phone:(816) 890-6750
Expanded Shale, Clay and Slate Institute (ESCSI)–Expanded shale, clay and slate lightweight aggregate. https://www.escsi.org/ Phone: (801) 272-7070
Spear Head Spade—Nationally known award-winning Spear Head Spade, a hybrid shovel/spade that makes the toughest digging 80% easier. Excels at penetrating hard, rocky soil, dense clay and complex root systems with ease. https://spearheadspade.com/. (732) 297-9240
SealGreen Concrete Sealing–Products for concrete cleaning, color staining, and sealing. https://sealgreen.com/ Phone: (913) 681-3451
Duluth Trading Company–Gardening clothing, tools, and accessories. https://www.duluthtrading.com/ Phone: 1-866-300-9719
Prohoe Mfg, LLC–Quality garden tools made from recycled agricultural disc blades. https://www.prohoe.com/ Phone: 1-800-536-5450
MOTHER EARTH NEWS Bookstore–From the most popular and longest-running sustainable-lifestyle brand, the MOTHER EARTH NEWS bookstore provides wide-ranging, expert resources on organic foods, country living, natural building, modern homesteading, off-grid energy, and natural health. Lively, insightful, and on the cutting edge, MOTHER EARTH NEWS is the definitive source for the growing number of Americans who choose wisely and live well. https://store.motherearthnews.com/

Sutherlands #1223 Olathe–Garden tools and equipment and garden supplies. https://sutherlands.com/s/olathe-ks/1223 Phone: (913) 782-6666
Arbor Masters—Specializing in tree health, preservation, pruning, and removal services. https://arbormasters.com/
Suburban Lawn and Garden–Locally grown plants and lawn and garden supplies. https://suburbanlg.com/ Phone: 913-897-5100
Burnell Enterprises LLC–Tiger Jaw Ratchet garden pruners, loppers, saw and ultimate hose nozzle. https://www.burnellenterprises.com/
AAC Enterprise–Cutting boards, plant stakes, and tumblers.
Rosie's Workwear–Workwear for women. https://rosiesworkwear.com/#
Boutiques
Johnson County Extension Master Gardener Marketplace–Don't miss out on these unique garden art items that include Concrete Leaves, Bucket Caddies, Garden Themed Notecards, Mosaic Birdhouses, and other garden themed items handcrafted by our very own EMG's.
Lofty Lou—They bring an eclectic boutique assortment of art, jewelry, bags, aprons, metal stamped message art, and original cards and prints, with a positive theme geared to gardeners. https://www.loftylou.com/lofty-designs-love-lou-lou
Country Gardens Studio–Pottery mixed; handmade clay planters and garden decor succulents, clay earrings and pendants.
Trumpet Vine Studios–Stained glass, concrete benches, pen and ink drawings, mixed media paintings, handpainted purses.
The Teal Butterfly–A Kansas City locally owned business. We carry unique, one-of-a-kind vintage and handcrafted items for the home or garden. https://thetealbutterfly.com/ Phone: (913) 901-8888
Leaf and Sky–Small batch artisan goods that support biodiversity-crafted in Kansas City with respect for our environment. Wearables, home goods & stationery featuring native plants/pollinators + bird houses, bee houses, planters, etc. https://www.leafandsky.com/
Gilded Lily–Boutique in Martin City. Garden, vintage garden jewelry, tea, vintage books, garden books, etc. https://www.gildedlilykc.com/
The Market Artisans–Handmade Pottery, Electroformed Copper and Sterling Silver Jewelry, Fiber Art, Woodturning, Fused Glass.
Specialty Food
Steve's Bees–Features raw honey and creamed honey infused with cinnamon, vanilla and our specialty hot pepper varieties. Beeswax lip balm, lotion bars and honey soaps, candy, wildflower pollen.
Just Nuts–Cinnamon roasted almonds, cashews and pecans.
Kansas City Popcorn–Local gourmet popcorn using only the best ingredients. https://www.kansascitypopcorn.com/
CST Sweets–Local, handcrafted, rich and delicious toffees, brittles, popcorn and other chocolate treats. https://www.cstsweets.com/

Locally Good–100% Natural Products: Apple Cider Vinegar and other fruit vinegars, Herbal Remedies (Elderberry Syrup, Fire Cider) Herbal Teas, Personal Care Products, that are Vegan and use pure Essential Oils. https://www.locallygoodfarm.com/

Wild Alive Ferments–Fermented foods and beverages using locally grown produce made with love in Lawrence Kansas. https://www.wildaliveferments.com/

MyCo Planet LLC–MyCo Planet is a woman-owned mushroom farm and is dedicated to organic practices. We will be selling Grow at Home Mushrooms kits to help people start their mycological journey, as well as fresh and powdered mushrooms. https://mycoplanetkc.com/

Morning Light Kombucha—We are a Native American and female-owned, small batch kombucha company located in Hoyt, KS.We are proud to say that over 80% of our ingredients are harvested by local farmers that are committed to sustainable agricultural practices. In addition, we also create incredible seasonal flavors using ingredients, hand-picked in the wild by us.Our kombucha is made with love and intention so that it nourishes your body from the inside out. https://www.morninglightkombucha.com/
Educational
Assistive Technology for Kansans–Display of assistive devices of use to a gardener. https://atk.ku.edu/
IMGC Environmental Stewardship Team–Information on environmental stewardship.

Monarch Watch–Learn more about Monarch conservation and Way Stations. www.monarchwatch.org

National AgrAbility Project–The vision of AgrAbility is to enhance quality of life for farmers, ranchers, and other agricultural workers with disabilities. http://www.agrability.org/

The Midwest Regional Hosta Society–The mission of the society is to promote education, research, development, and enjoyment of America's favorite perennial, the Hosta. But most of all, the MRHS is a society of people that have developed a camaraderie around this wonderful "friendship plant". http://www.midwesthostasociety.org/index.shtml

Kansas Permaculture Institute–KPI is a non-profit organization. Our goal is to educate and connect qualified instructors. We engage in outreach events and host community events. https://kansaspermaculture.org/about/

Botanical Belonging–Botanical Belonging is non-profit, hands-on native plant education. We teach native plants by growing and cultivating with our community. https://botanicalbelonging.org/

[email protected] County Community College–Introduction to the Floral Design Program at Johnson County Community College Information and Displays. https://www.jccc.edu/

Kansas State University Olathe & Online–Stop by the K-State booth to learn more about our Kansas City Metro & Online Horticulture Urban Food Systems programs. https://olathe.k-state.edu/ https://online.k-state.edu/
K-State Research and Extension-Manhatten–Explore resources and services of K-State Research and Extension, including the new Kansas Garden Guide. Visitors can take a spin on the blender bike. https://www.ksre.k-state.edu/
Friends of the Arboretum-FOTA– Exists to foster, promote and develop the aesthetic, educational, recreational, cultural, environmental, and scientific aspects of the Overland Park Arboretum & Botanical Gardens. https://artsandrec-op.org/arboretum/friends-of-the-arboretum/
The Land Institute–The Civic Science Team will be showing educational materials to collaborate on Perennial agriculture research and community learning. An upcoming gardening project invites civic scientists across the US to grow, study and observe a set of Perennial plants and their annual counterparts. Learn more at https://landinstitute.org/our-work/
The Water Garden Society–The Water Garden Society of Greater Kansas City (WGSGKC) is a not-for-profit organization dedicated to the construction, preservation, and appreciation of water gardens throughout the Kansas City metro area; that promotes the interest and enjoyment of water gardens and their environment; and its goal is educational by sharing information with our members and the general public while encouraging and supporting other organizations with similar aims. https://kcwatergardens.com/
Legacy of Greenery Committee–City of Overland Park information booth about the committees mission to "Promote the Value of the Landscape". https://www.opkansas.org/
US Environmental Protection Agency, Region 7–https://www.epa.gov/aboutepa/epa-region-7-midwest
Tours
Discover Garden Tours–At Discover Garden Tours we design all of our tours to maximize your intimate garden tour experience. This year's list of curated garden tours includes trips to Costa Rica, The Netherlands, Vancouver BC, and Washington DC. All of our tours are designed for both Master Gardeners and garden lovers alike. Please stop by our booth and introduce yourself and sign up to Spin and Win. www.discovergardentours.com