Overland Park, Kansas-Getting here is part of the fun

6000 College Boulevard, Overland Park, Kansas 66211

If driving, check out the map. Overland Park is a short one day or less trip from many cities. Load up the car with your Master Gardener friends and take a road trip to Kansas for a memorable, educational, friendship-filled outing.
All major airlines fly into Kansas City International Airport (MCI). If arriving from an international location, you can connect through all major gateway cities. To enhance your travel experience, a new state-of-the-art terminal is scheduled to open in 2023.
Kansas City International Airport is about a 45-minute drive to the Overland Park Convention Center and all conference lodging. The Sheraton, Courtyard by Marriott and the Hilton Garden Inn do not provide airport transportation, however there are multiple options for airport service to and from the conference. We highly recommend you plan your transportation before arriving. Options include renting a car, sharing an Uber, Lyft or taxi service, and various shuttle services.
Several companies provide transportation to and from the Kansas City International Airport and the Overland Park Convention Center. We recommend you plan your transportation needs before arriving and departing. Suggested services are listed below.
5 Guys Transportation | Book directly from the link. All fees and gratuity included. | 816-891-9999
Quicksilver Airport Shuttle and Express | 913-262-0905
KCI Airport Shuttle | 785-209-3090
Overland Chauffeured Services | 800-575-4845
SuperShuttle | 800-258-3826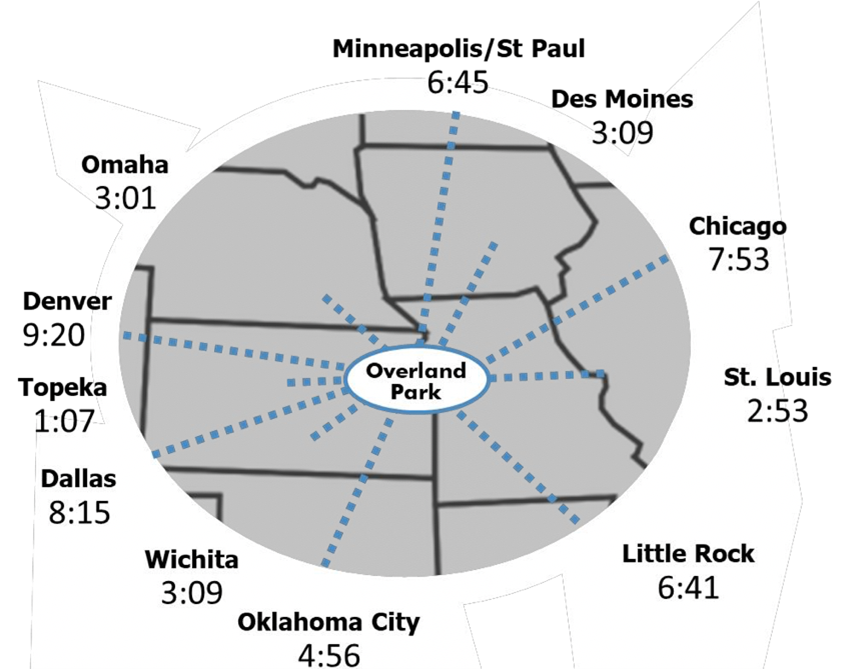 • Overland Park is located in prosperous Johnson County, the largest county in the state of Kansas, with a population of about 600,000+ residents;
• Money magazine ranks Overland Park as the No. 7 Best Place to Live in the US in 2021-22;
• In 2021, Niche ranked Johnson County No. 2 for Best Counties to Live in America and Overland Park as No. 4 for Best Cities to Live in America;
• Overland Park is regularly ranked by numerous publications among the top cities in which to live, having one of the nation's best public school systems, park systems and healthiest populations;
• We are fortunate to be part of the Greater Kansas City metropolitan area and all that has to offer.
Tidbits to know about our metro area:
• Johnson County lies within a transition zone where the North American eastern deciduous forests meet the tallgrass prairie. Where else in the country can you travel in a little over an hour from lush green, treed landscape to the vast open areas of the largest remnant of the tallgrass prairie left in the U.S.?
• With 200 officially registered fountains, Kansas City is nicknamed the "City of Fountains," rivaling only Rome, Italy, in number;
• We avidly support our world champion Kansas City Royals and Kansas City Chiefs;
• We are home to the famed Country Club Plaza, a distinctive outdoor shopping and entertainment district designed to emulate Seville, Spain;
• We brag about our Kansas City BBQ, which we believe is second to none;
• We enjoy an eclectic local foodie, craft brewery and spirits scene;
• We are home to a burgeoning revival of a once robust, pre-prohibition era grape-growing and wine-making industry;
• While it can't be measured, we are renowned for our down-to-earth midwestern hospitality.
Places of interest:
• The nation's only official World War I Museum;
• The nationally acclaimed Nelson-Atkins Museum of Art and Kemper Contemporary Art Museum;
• The newly renovated Harry S. Truman Presidential Library and Museum;
• The Negro Leagues Baseball Museum.