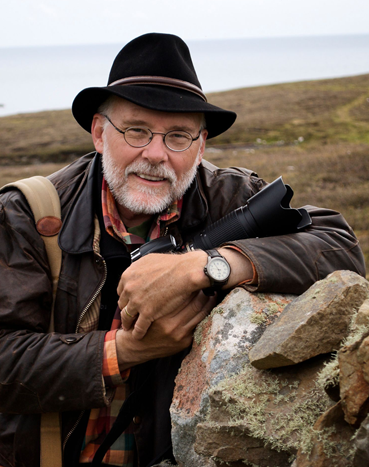 Jim Richardson
Jim Richardson is a photographer who has photographed more than 50 stories for National Geographic. Richardson's work has taken him around the world covering issues of the environment, cultures and travel, landscapes and perils to the night sky. His ongoing coverage of food and agriculture issues has been a centerpiece of National Geographic's coverage of world food.
Richardson is also known for his documentary photography of small towns and rural issues. "CBS News Sunday Morning" twice profiled his 35-year-long journal of Cuba, Kansas. ABC's "Nightline" chronicled Richardson's coverage of the Columbia River and the process of assembling the resulting National Geographic story. Martha Stewart Living and myriad books and magazines have profiled his work. His 1979 study of adolescence in Cuba, Kansas, "High School USA," is now considered a photo essay classic and is used in college classrooms. In 2015 he was honored by his fellow National Geographic photographers as their "Photographer's Photographer."
Presentation:"Feeding Planet Earth"
Opening Keynote, June 19, 2023
The problem of feeding our hungry planet has taken Jim around the world several times for National Geographic. Over the last 20 years, he has covered stories of food, farmers and the vast problems and possibilities before us. Few have been given such an opportunity to see the breadth of the problems, as well as to meet the people who grow our food — our farmers. This program is a unique opportunity to see the big picture of agriculture on our planet and the many ways agriculture affects our environment. In this sweeping program, Jim begins 10,000 years ago during the Neolithic Revolution and explores how farming and food production have become mankind's biggest endeavor.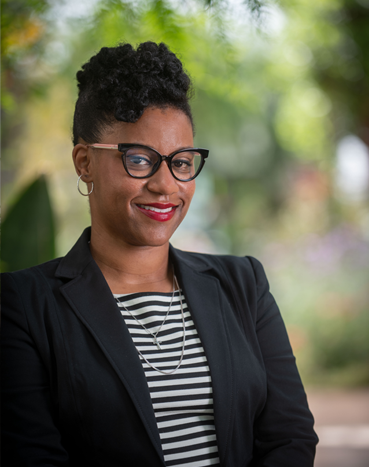 Abra Lee
(pronounced AY-bruh)
Lee has been described as a "rising star in the plant universe" committed to uncovering and honoring the diverse contributions of Black Americans in U.S. horticultural history.
Her career has taken her from greenhouse worker to municipal arborist, county extension agent to landscape manager at international airports in Atlanta and Houston, to membership in the prestigious Longwood Gardens Society of Fellows. As part of her fellowship research in France, Lee compared the life of Ann Coleman Carvallo of Château de Villandry with that of Anne Spencer, the African-American civil rights activist of Lynchburg, Virginia.
Lee is also a published author. Southern gardening guru Allen Bush describes her book "Conquer the Soil" as, "Abra Lee unearthing the American history of Black ornamental gardening, one story at a time." In it she celebrates legendary stories of 45 African-American women and men with accomplished but previously unheralded careers in our country's plant world.
A fifth generation native of Atlanta, Georgia, Lee has a horticulture degree from Auburn University. No surprise, she's also a diehard Auburn Tigers fan.
With so many fascinating true stories to share, Lee has quickly become a sought-after speaker with audiences describing her as "delightful, fun, uplifting, a beautiful storyteller."
Presentation:"Conquer the Soil: Legendary Stories in American Horticulture"
Breakfast Keynote, Tuesday, June 20, 2023
From flamboyant floral expressions to extraordinary achievements in literature and art, America's Black people have long sown seeds of greatness in their own gardens and the gardens of others. Lee invites you to join her in a celebration of diverse and unforgettable tales of Black American gardeners' resilience, communal pride and shared love of Mother Nature.
Dr. Charles (Chuck) Rice
Rice has visited over 33 countries as an agronomy researcher, speaker, teacher and mentor. He's known for his research on the impact of climate change on agriculture and soil carbon and nitrogen cycling. As part of his international outreach at Kansas State University, Rice has live-streamed classes at universities with students around the world, including Federal University of Santa Maria in Brazil.
His long list of awards include a Nobel Peace Prize in 2007 and recognition as a Distinguished Professor at K-State in 2009. As a member of the UN Intergovernmental Panel on Climate Change, he co-authored the report on climate change that received Nobel Peace Prize recognition.
In 1988, Rice joined the faculty at K-State, where he is a Professor of Soil Microbiology in the Department of Agronomy. When extension master gardeners share researched-based information, Rice may have been involved in the research. He has received over $35 million in research grants, advised over 47 graduate students and 18 post-doctorates and has over 225 publications.
A former 4-H'er, Dr. Rice spends his free time reading and gardening. Rice says he likes the physical work of gardening and "enjoys seeing the results and accomplishments from that work."
Dr. Charles W. Rice
Manhattan, Kansas
Presentation: "Gardening for a Changing Climate"
Breakfast Keynote, Wednesday, June 21, 2023
Climate change has increased global temperatures. The challenge will be dealing with summer heat, erratic temperature extremes, and excessive precipitation followed by drought. Given these challenges gardeners need adaptive strategies. Soil health, shifting plant selection and plant breeding are all strategies. As gardeners we will need to adjust our practices for success as we learn to adapt to the challenges of gardening in a changing climate.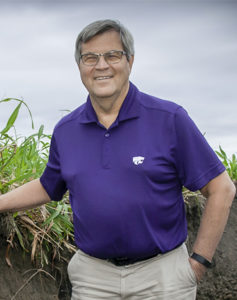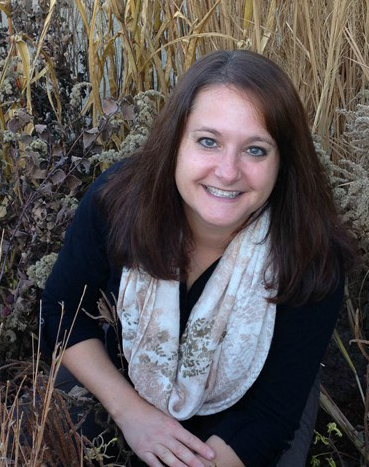 Jessica Walliser
Walliser knows the difference between good bugs and bad bugs and wanted to make it easier for fellow gardeners to identify and control the bad ones, safely and naturally. That's why she wrote the best-selling book, "Good Bug Bad Bug: Who's Who, What They Do, and How to Manage Them Organically."
She takes the same practical approach to providing useful information about companion planting of vegetables in "Plant Partners: Science-Based Companion Planting Strategies for the Vegetable Garden." It's an easy-to-apply explanation of how plants interact and influence one another. It's also a guide to using scientifically tested plant pairings to improve soil health and weed control, decrease pest damage, and increase biodiversity—without chemicals.
In addition to writing books, Walliser's keen interest in horticulture led her to become a radio show host, newspaper columnist, Organic Gardening contributing editor, former owner of a 25-acre organic market farm, and recipient of the American Horticultural Society's Book Award. She has a degree in ornamental horticulture from Pennsylvania State University.
Walliser lives and gardens northwest of Pittsburgh with her husband and son, 6 chickens, 2 cats, 2 hermit crabs, and billions and billions and billions of very good bugs.
Jessica Walliser
Pittsburgh, Pennsylvania
Presentation:"Plant Partners: Science-Based Companion Planting Strategies for the Vegetable Garden"
Breakfast Keynote, Thursday, June 22, 2023
Jessica Walliser provides a scientific look at whether or not vegetable companion planting works and why. Discover how companion planting affects weed control and the spread of plant diseases. Learn why we should be interested in nitrogen fixing plants and more. Even non-vegetable gardeners will find Walliser's presentation to be as fun as it is fascinating, as engaging as it is educational.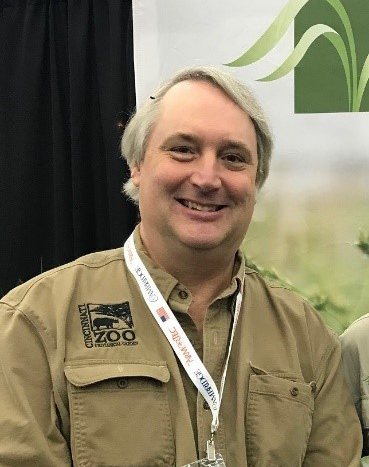 Scott Beuerlein

A self-proclaimed plant geek, Beuerlein has the perfect mindset for his responsibilities as Manager of Botanical Garden Outreach at the Cincinnati Zoo and Botanical Garden. Like master gardeners, he understands the rewarding feeling of connecting people with plants.
Scott Beuerlein is responsible for CZBG's extensive plant trials, the Garden's popular Excellence in Horticulture symposium series, and additional outreach programs for both the public and green industry professionals.
An award-winning communicator, Beuerlein has written hundreds of articles, magazine columns, interviews, and blog posts for Horticulture Magazine, GardenRant.com, and a host of other gardening publications. He's also a sought-after national speaker with a reputation for being as entertaining as he is informative talking before groups of 12 to 1,200.
Beuerlein's avid readers and enthusiastic audiences describe him as "highly knowledgeable, profound, wacky, irreverent, thought-provoking, great storyteller, funny, and totally honest."
Beuerlein and his wife, Michele, live in Cincinnati with what he calls "a garden best described as over-sized and under-maintained." He adds, "That's a pretty fair description of myself."
Presentation:"Why Gardens and Gardening Matter"
Closing Keynote, Thursday, June 22, 2023
You won't want to miss this uplifting closing keynote by Scott Beuerlein. It takes you on a fascinating horticultural journey. He connects evolution, art, genetics, natural history, food, wine and more with landscapes that make us feel more comfortable, happy and secure. Beuerlein makes the case that green spaces and the plants that create them fulfill basic human needs, not wants. After listening to Scott, you'll return home inspired to create gardens that raise your community's quality of life.